With the rising costs of food and the decrease in quality, it can be tough to create healthy dishes if you don't have a garden to grow your own fruits and vegetables in. At the same time, you might want to try gardening but don't have enough space in your yard to build one. We have the solution for you—A DIY window garden is the way to go.
DIY kitchen gardens are simple to make. Best of all, you can create a garden for your kitchen window in less time and grow your favorite herbs, veggies, and fruits.
If you're interested in creating a window garden for your kitchen, here are several simple plans to make one:
The 8 DIY Kitchen Garden Window Plans:
1. Mason Jar Herb Garden
Materials Needed: Blue mason jars, green mason jars, wire, and hooks
Tools Needed: Wire cutters and pliers
Difficulty Level: Easy
If you have small kitchen windows, consider filling the area with an herb garden. It works well with smaller spaces because it's vertical. You can grow any herb you like from basil to parsley to garlic chives. It's an excellent way to get a fresh harvest every few days.
You can create an herb-potted window garden with a wide range of herbs and plants that will fit in a quart-sized mason jar.
This simple DIY kitchen garden window plan is perfect for beginners, and you can hang it right in your kitchen window without taking up precious counter space.
The best thing about this plan is that the herbs will be easily accessible while you're cooking dinner. It's an excellent project to perform with kids as well because they can help decorate the jars. Also, they'll love watching the plants grow each day.
---
2. Hanging Window Herb Garden
Materials Needed: Wood, rope, hooks, wood stain, pots, soil, and plants
Tools Needed: Drill, drill bit, saw, sandpaper, and a level
Difficulty Level: Moderate
The hanging herb garden is a cute and simple project perfect for any kitchen window. It's also an excellent option if you don't have much space in the kitchen.
You can hang it right over your counter or sink and use any pot you like. Also, you can make the frame to fit almost any kitchen window size.
It's a cute way to add greenery to your home while saving space and having fresh veggies right at your fingertips.
This DIY window garden is perfect for apartments or houses with limited space. With just a few pots and wooden boards, you can have an adorable and useful kitchen garden.
---
3. Indoor Windowsill Herb Garden
Materials Needed: Tin cans, chalkboard labels, spray paint, potting soil, and seed packets or small herb plants
Tools Needed: Spray gun and markers
Difficulty Level: Easy
This indoor window sill garden is an easy project that would look great anywhere in the home, but it works best in homes that use a lot of fresh herbs and spices.
It's one of those projects that don't need prior building experience, so even beginners can get it done.
This garden will fit perfectly in any kitchen window.
Also, it doesn't take up a lot of room, and you can grow your herbs and veggies year-round. It's the perfect project if you love cooking with fresh herbs but don't have the space or time to maintain a full-sized garden.
---
4. DIY Vertical Kitchen Garden From Soda Bottles
Materials Needed: Empty 2-liter plastic bottles, mounting brackets (optional), and a piece of cardboard
Tools Needed: Box cutter, drill bits, power drill, and scissors
Difficulty Level: Easy
If you want an easy-to-make window garden, go for the DIY Vertical Kitchen Garden. It is a fast and an easy way to start gardening in small spaces. You only need some old soda bottles and a drill.
You can attach the soda bottles to the window using cable ties. It'll create an attractive yet functional design idea for your kitchen windows. These bottles are perfect for growing herbs and vegetables. It's one of the easiest ideas, as it requires minimal work.
The bottles are the perfect size to fit your narrow windowsills. Plus, it's such an inexpensive project that looks pretty cool once finished.
---
5. DIY Tomato Garden for Kitchen Windows
Materials Needed: Plastic tote, bottles, and eye bolts
Tools Needed: Box cutter, drill bits, drill, and scissors
Difficulty Level: Moderate
Tomatoes are the most popular vegetable in America. So, it makes sense that you may want to grow them in your kitchen window. This DIY window garden is perfect for those with a large window that gets plenty of sunlight.
The project is quite easy to put together, and in the end, you will have a bounty of delicious tomatoes. It's an excellent project if you want to grow your food but don't have a lot of room for an outdoor garden.
If you're looking to save money on groceries, this is also a great option since tomatoes are expensive in some areas. You'll love having fresh tomatoes right on your kitchen window.
---
6. Plastic Bottle Do-It-Yourself Window Herb Garden
Materials Needed: Six plastic bottles, lumber, ready-to-plant herbs, white spray paint, screws, and wood stain
Tools Needed: Ruler, screwdriver, sandpaper, utility knife, carpenter's pencil, electric drill, paintbrush, and a saw
Difficulty Level: Moderate
Do you want to grow fresh herbs in your kitchen but don't have any space for a garden? An herb garden made from plastic bottles is the most basic way to create a garden indoors. You can use your old plastic bottles to create this space-saving work of art.
This design is an excellent way to repurpose materials. Also, it's a creative way to add plants to your home, especially for those who don't have an outdoor space for a garden.
The best part about this kitchen window herb garden is that it's perfect for beginner gardeners, so you won't have to worry about bugs, weeds, or watering very often.
---
7.  Self-Watering Kitchen Window Herb Garden
Materials Needed: Twine, plastic wrap, potting soil, water, seeds or herb seedlings, and plastic bottles.
Tools Needed: A pair of scissors
Difficulty Level: Easy
Make your life easier with a self-watering window herb garden. With this clever little window garden, you can grow herbs all year round. Also, it makes watering a breeze. The planter has a built-in reservoir that keeps the soil moist and prevents your fresh herbs from drying out.
This project is an excellent option for people who have trouble remembering to water their plants—no more dead herbs! The self-watering feature also saves water and keeps your plants healthy.
You can grow fresh herbs, vegetables, and more in this self-watering garden that fits most standard-sized windows. It's the perfect solution for anyone who wants to garden but doesn't have a big yard.
The self-watering herb garden is creative and handy and makes growing your herbs more fun than ever before. You can build it within a few hours, and it doesn't cost too much either.
---
8. Little Herb Garden for the Kitchen Window
Materials Needed: Plant herbs or seed packets, potting soil, old glass jars, and water
Tools Needed: A utility knife
Difficulty Level: Easy
What better way to use an old window than to turn it into a little herb garden? It's an easy project that anyone can do.
Growing herbs is the joy of many gardeners. If you love cooking and eating fresh food, having a little herb garden in your kitchen is fantastic. You can plant cilantro, oregano, onions, or rosemary. They'll provide you with fresh ingredients to use in the kitchen and some greenery for the room.
This herb garden is an excellent way to save space and add a fun and colorful display to your boring kitchen window. You can use glass jars of different sizes and shapes as well.
---
What Are the Benefits of a Kitchen Window Garden?
You may not have the space to grow a garden at home, but kitchen windows are usually not being used. You can create a garden there with simple indoor plant containers.
By doing this, you can add fresh herbs to any meal. Besides, there are several other benefits of planting a garden in your kitchen window, as seen below.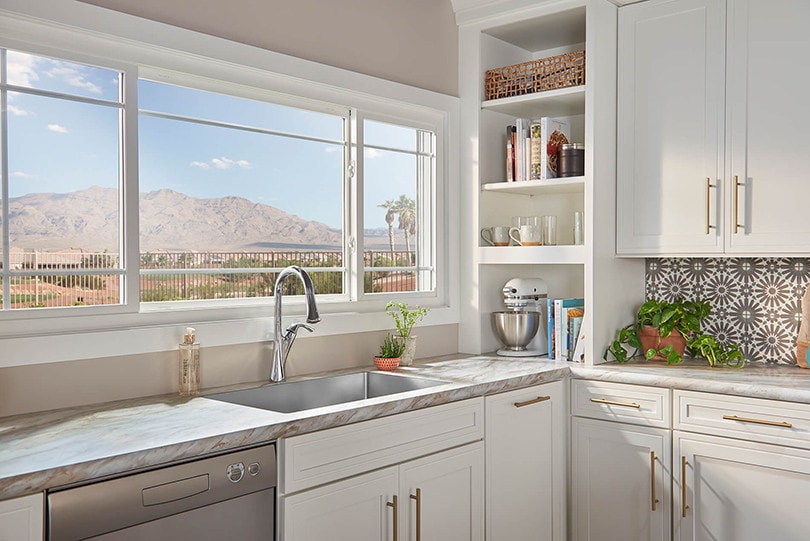 Healthy Living
A kitchen window garden can help improve your health by providing you with fresh vegetables right at home.
You don't need to buy them from a store where they are often treated with chemicals or pesticides. Also, you will know what goes into what you eat when growing your produce.
Livens Up the Kitchen Decor
Kitchen window gardens can add new life and color to your kitchen decor. It will give the room a fresh look and feel.
There are no limits to what you can grow in a window garden. So, don't be afraid to try something unusual and uncommon for added intrigue.
Fresh Vegetables
A kitchen window garden allows you to add fresh vegetables to your meals whenever you want them. You can also experiment with new ingredients that you might not find at the store.
If you have not had fresh herbs in a dish, now is your chance to try them out and see if they make a difference in the flavor of your favorite recipes.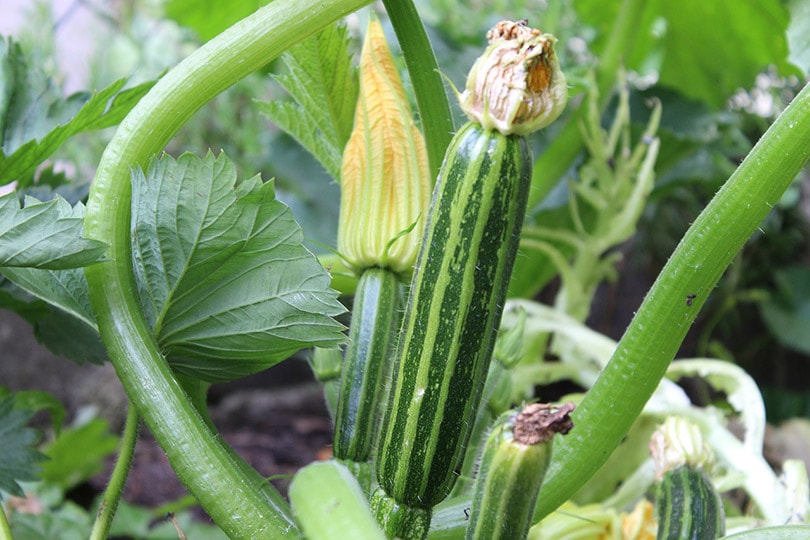 Lower Grocery Bills
Fresh produce can be costly at the grocery store. It's often cheaper to grow your own at home. For example, if you're growing herbs or tomatoes on your windowsill, you'll save money on these items every time you use them.
A kitchen window garden also saves time. You don't have to go to the grocery store if all you need is one or two ingredients already growing on your windowsill.
Sustainability
Kitchen window gardens help cut down on food waste by allowing you to snip off a few sprigs at a time. You don't have to worry about the rest of the plant going bad before using it.
Conclusion
There are many ways to integrate a little bit of nature inside your home. These garden plans for kitchen windows prove that you can grow food indoors or on small patios, balconies, or decks.
DIY kitchen gardens are easy to create. You don't have to be a handyman or professional contractor to get one done.
All you need is the right idea, some supplies, and a free afternoon to work on a plan perfect for you and your living situation.
They'll give you a beautiful and bountiful garden, so give them a try, and you'll never have to dig in the dirt again!
---
Featured Image Credit: Better Homes and Gardens