Review Summary
When comparing these two trim levels, it's important to note that both are identical in almost every way. The XLE doesn't have any features that significantly improve performance over the LE. So, if you're looking for a Toyota SUV that will get you from point A to B and do it reliably for many years, the LE is a fine option. However, if some of the aesthetic upgrades or infotainment features from the XLE appeal to you, then the increase in cost is reasonable and justifiable.
Below we've gathered some key features that make the Rav4 incredible at any trim level. We've also laid out some of the best upgrades the XLE offers to give you an idea of which one is right for you.
At a Glance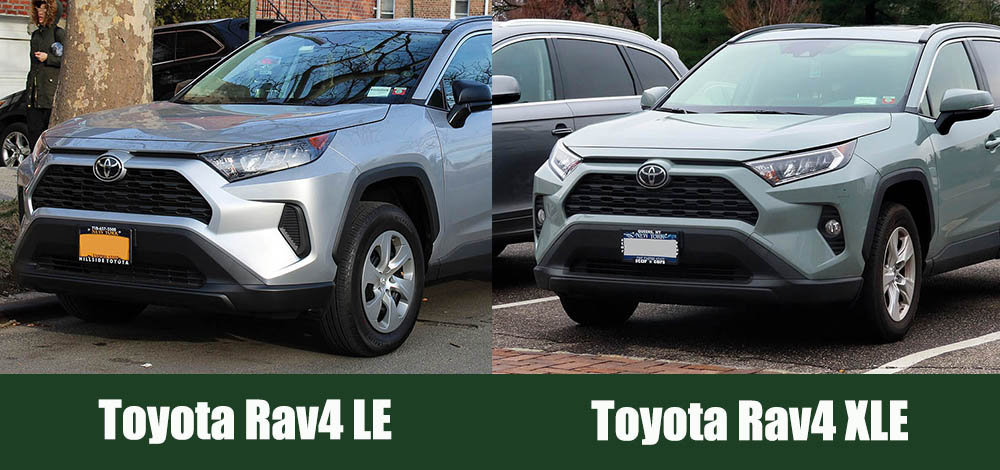 Let's look at the key points of each product.
Rav4 LE
Starting MSRP: $26,525
Warranty: 36 months / 36,000-miles
Horsepower: 203
Engine: 2.5-liter VVT-i
Drivetrain: AWD / FWD
Estimated mpg: Up to 27 city / 35 highway
Seating capacity: 5
Rav4 XLE
Starting MSRP: $27,995
Warranty: 36 months / 36,000-miles
Horsepower: 203
Engine: 2.5-liter VVT-i
Drivetrain: AWD / FWD
Estimated mpg: Up to 27 city / 35 highway
Seating capacity: 5
---
Overview of LE: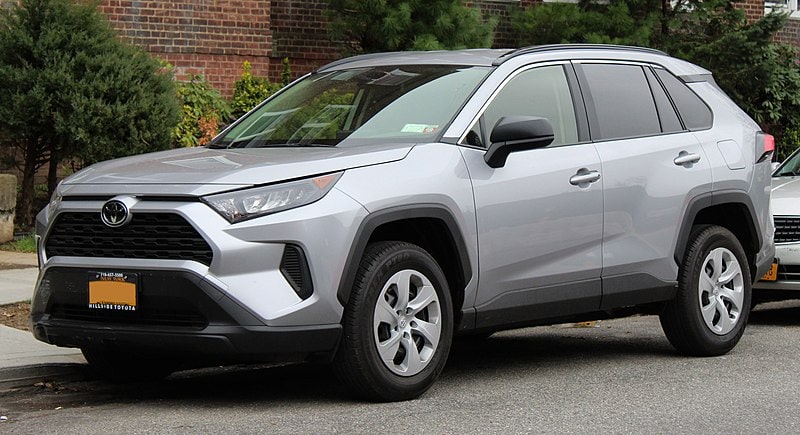 The Rav4 is Toyota's flagship SUV. There are no changes to the LE trim level this year, which isn't necessarily a bad thing. When someone purchases an entry-level SUV, they aren't looking for all the bells and whistles, which is where the only changes on the 2022 Rav4s are.
Whether your focus is fuel economy or power, the Rav4 LE is offered with a 203 horsepower 2.5-liter gasoline engine or a 219 horsepower hybrid engine. It may seem like a significant power difference, but keep in mind that the hybrid engine is a combined horsepower rating between the electric motor and gas engine. So, depending on your driving mode, you won't always have all the horsepower working on the hybrid.
For a reasonable price, you're getting a solid and reliable SUV. The Rav4 wins awards every year and receives top review ratings from consumers just like you. All the things that make the Rav4 incredible are either standard or available on the LE package. It's only when you move into higher-tiered trim levels that extra features become available, but most are quality-of-life improvements. Things like available AWD or engine power and fuel economy are the same across the board.
Overview of XLE: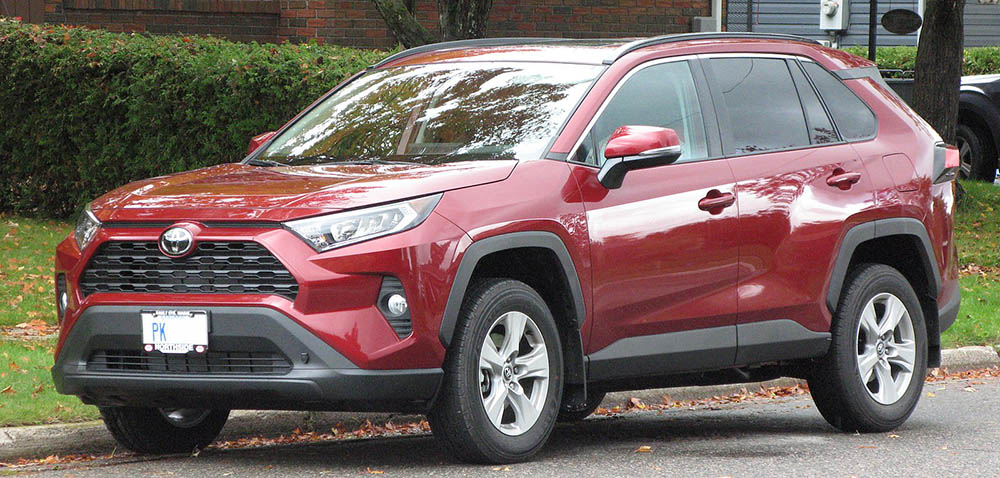 Like the LE, the XLE is also available with a gas-powered or hybrid engine, available AWD, and has an incredible reputation for reliability and durability. This year, the XLE also underwent a few minor changes. The headlights were redesigned with a more aggressive look, and Calvary Blue was added as a color option. In addition, there are a few places where the XLE comes out as a more feature-rich option.
Looks and Function
The XLE boasts several upgrades that improve the looks and function of the SUV. For example, you can add a power tilt/slide moonroof and power liftgate with jam protection as part of the XLE Grade Convenience Package. Or, if you live in a colder climate, you can add a heated, leather-trimmed steering wheel and heated front seats with the XLE Grade Weather Package.
Color-keyed outside door handles are available on both trim levels, but on the XLE, they also feature a touch-sensor lock/unlock option on the front door handles. The headlights are also finished with a nice chrome bezel. They also have an auto on/off, so you don't have to worry about leaving your headlights on and killing your battery.
Safety and Economy
Any Toyota vehicle, from the cheapest to the most expensive trim level, has outstanding safety features. The main difference comes with what is standard versus optional. Two optional safety features on the LE are blind-spot monitoring and cross-traffic alert. But these are both standard on the XLE. Another great option available for the XLE is the anti-theft system with an alarm and engine immobilizer.
Another cool option worth mentioning is the Stop and Start Engine System (S&S) included on the XLE. It helps improve your fuel economy slightly. When you stop and press the brake pedal, the S&S system detects this and turns off your engine, then restarts once you release the brake.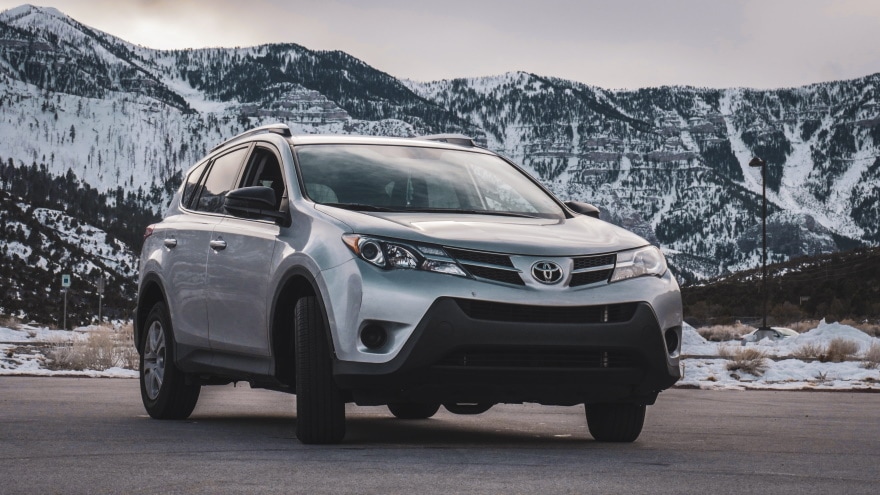 How Do These Trim Levels Compare?
Performance
Edge: Tie
In the performance department, both trim levels have the same features regarding engine, transmission, and driveline.
Price
Edge: LE
If you opt for the entry-level LE, you will be saving a thousand dollars or more. However, if the extra features appeal, the XLE price is still reasonable.
Durability
Edge: Tie
Again, both trim levels benefit from Toyota's absolute commitment to producing some of the most reliable automobiles on the market.
Design
Edge: XLE
Due to its having several quality-of-life and aesthetic upgrades, the XLE wins in the design category.
Conclusion
Even though the LE and XLE share almost identical DNA, they are still some distinct differences. If the bells and whistles are what you're after, the XLE will be the trim you want. The few thousand dollars you pay extra is well worth the extra features you get if you're interested in them. However, if you want a decent SUV that will get you where you need to go, then the LE will keep more dollars in your pocket. Plus, you won't be sacrificing any quality by opting for the entry-level trim.
---
Featured Image Credit: (L) 2019 Toyota RAV4 LE front by Kevauto, Wikimedia Commons CC 4.0 | (R) 2020 Toyota Rav4 XLE by SsmIntrigue, Wikimedia Commons CC 4.0